15 Inspirational Books to Read When You Need Hope
You know those days where you're feeling down, and you reach into your pocket and grab your bottle of happiness and shake it all around and it makes you feel happy? JK, that doesn't exist (that we know of yet), but the next best thing is books. Books can bring comfort, happiness, and that most important of magic potions: hope.
Books offer us hope for many reasons, one of the core reasons being that they remind us we're not alone. By shining a light on the issues we sometimes hide behind or don't talk about, books (and the authors who created them) show us there is indeed a light in the darkness, that we are not the first ones to experience such feelings, and that there is a community we can join, whether in person or online, that knows exactly what we're going through.
That's because many authors have been there, too. But bad times are not eternal, and these stories help remind us of that. Scroll down for collections of anthologies and novels, both fiction and nonfiction, that will ignite your spark of hope!
15 Inspirational Books That Give Us Hope
"HOPE, THE ONLY THING STRONGER THAN FEAR" – Suzanne Collins
1. (Don't) Call Me Crazy edited by Kelly Jensen
Mental health can be a challenge any day of the week. If you want to find like-minded individuals who also experience mental health challenges, this anthology is for you.
Who's Crazy?
What does it mean to be crazy? Is using the word crazy offensive? What happens when such a label gets attached to your everyday experiences?
In order to understand mental health, we need to talk openly about it. Because there's no single definition of crazy, there's no single experience that embodies it, and the word itself means different things—wild? extreme? disturbed? passionate?—to different people.
(Don't) Call Me Crazy is a conversation starter and guide to better understanding how our mental health affects us every day. Thirty-three writers, athletes, and artists offer essays, lists, comics, and illustrations that explore their personal experiences with mental illness, how we do and do not talk about mental health, help for better understanding how every person's brain is wired differently, and what, exactly, might make someone crazy.
If you've ever struggled with your mental health, or know someone who has, come on in, turn the pages, and let's get talking.
2. Hope Nation: YA Authors Share Personal Moments of Inspiration edited by Rose Brock
Sometimes the world looks bleak and social media can make it seem all-consuming. This collection of stories will spark hope within you and show that there is still good in the world.
"The hope of a secure and livable world lies with disciplined nonconformists who are dedicated to justice, peace and brotherhood."–Rev. Martin Luther King, Jr.
We all experience moments when we struggle to understand the state of the world, when we feel powerless and–in some cases–even hopeless. The teens of today are the caretakers of tomorrow, and yet it's difficult for many to find joy or comfort in such a turbulent society. But in trying times, words are power.
Some of today's most influential young adult authors come together in this highly personal nonfiction collection of essays, poems, and letters, each a first-hand account that ultimately strives to inspire hope.
3. Project Semicolon by Amy Bleuel
There are symbols of hope all around us, and the semicolon is no exception. Learn more about this incredible project at the link below.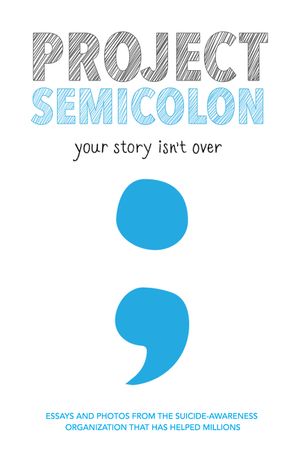 Project Semicolon began in 2013 to spread a message of hope: No one struggling with a mental illness is alone; you, too, can survive and live a life filled with joy and love. In support of the project and its message, thousands of people all over the world have gotten semicolon tattoos and shared photos of them, often alongside stories of hardship, growth, and rebirth.
Project Semicolon: Your Story Isn't Over reveals dozens of new portraits and stories from people of all ages talking about what they have endured and what they want for their futures. This represents a new step in the movement and a new awareness around those who struggle with mental illness and those who support them. At once heartfelt, unflinchingly honest, and eternally hopeful, this collection tells a story of choice: every day you choose to live and let your story continue on.
Learn more about the project at www.projectsemicolon.com.
4. Speak by Laurie Halse Anderson
Rape has always been a very serious and important topic, and in the era of #MeToo, this YA classic is a book to revisit. Melinda is someone who feels like she could walk by you in the hallways of your high school, and you'll root for her the entire way.
The first ten lies they tell you in high school.
"Speak up for yourself—we want to know what you have to say."
From the first moment of her freshman year at Merryweather High, Melinda knows this is a big fat lie, part of the nonsense of high school. She is friendless, outcast, because she busted an end-of-summer party by calling the cops, so now nobody will talk to her, let alone listen to her. As time passes, she becomes increasingly isolated and practically stops talking altogether. Only her art class offers any solace, and it is through her work on an art project that she is finally able to face what really happened at that terrible party: she was raped by an upperclassman, a guy who still attends Merryweather and is still a threat to her. Her healing process has just begun when she has another violent encounter with him. But this time Melinda fights back, refuses to be silent, and thereby achieves a measure of vindication.
5. The Hate U Give by Angie Thomas
Even though THUG has been out for a few years, this book has already been deemed a classic—and it's not hard to see why. With the news highlighting tensions between police and unarmed people of color, this book is needed more than ever to understand and relate to the anger, frustration and sadness that America currently faces.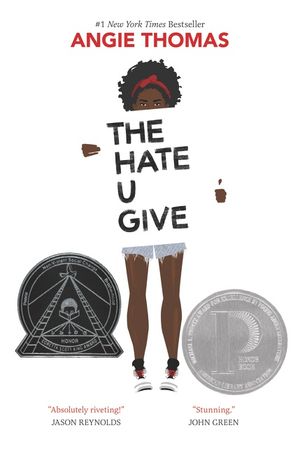 Sixteen-year-old Starr Carter moves between two worlds: the poor neighborhood where she lives and the fancy suburban prep school she attends. The uneasy balance between these worlds is shattered when Starr witnesses the fatal shooting of her childhood best friend Khalil at the hands of a police officer. Khalil was unarmed.
Soon afterward, his death is a national headline. Some are calling him a thug, maybe even a drug dealer and a gangbanger. Protesters are taking to the streets in Khalil's name. Some cops and the local drug lord try to intimidate Starr and her family. What everyone wants to know is: what really went down that night? And the only person alive who can answer that is Starr.
But what Starr does—or does not—say could upend her community. It could also endanger her life.
6. The Poet X by Elizabeth Acevedo
Books written in verse can portray emotion in brilliant ways. This story by the author of With The Fire On High is no exception, and conquers topics of religion, race, and sexism.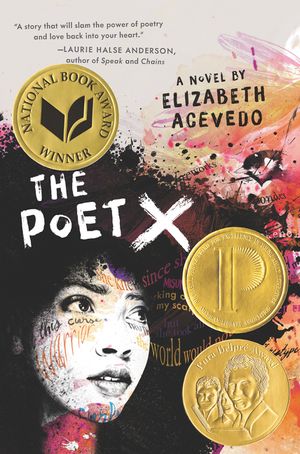 Xiomara Batista feels unheard and unable to hide in her Harlem neighborhood. Ever since her body grew into curves, she has learned to let her fists and her fierceness do the talking.
But Xiomara has plenty she wants to say, and she pours all her frustration and passion onto the pages of a leather notebook, reciting the words to herself like prayers—especially after she catches feelings for a boy in her bio class named Aman, who her family can never know about. With Mami's determination to force her daughter to obey the laws of the church, Xiomara understands that her thoughts are best kept to herself.
So when she is invited to join her school's slam poetry club, she doesn't know how she could ever attend without her mami finding out, much less speak her words out loud. But still, she can't stop thinking about performing her poems.
Because in the face of a world that may not want to hear her, Xiomara refuses to be silent.
7. Blood Water Paint by Joy McCullough
Another lovely story written in verse, this historical fiction novel will make you fierce and determined as you follow Artemisia's journey to becoming a world-renowned painter while also dealing with the harsh trial she had to face after her rape, as a woman in a time where women were barely considered more than property.
Her mother died when she was twelve, and suddenly Artemisia Gentileschi had a stark choice: a life as a nun in a convent or a life grinding pigment for her father's paint.
She chose paint.
By the time she was seventeen, Artemisia did more than grind pigment. She was one of Rome's most talented painters, even if no one knew her name. But Rome in 1610 was a city where men took what they wanted from women, and in the aftermath of rape Artemisia faced another terrible choice: a life of silence or a life of truth, no matter the cost.
He will not consume
my every thought.
I am a painter.
I will paint.
I will show you
what a woman can do.
8. The Book Thief by Markus Zusak
If you want a story to experience the whole range of human emotions, read this book. This WWII story will remind you of your love for reading as it hopes for a better world than 1940s Germany.
It is 1939. Nazi Germany. The country is holding its breath. Death has never been busier, and will be busier still.
By her brother's graveside, Liesel's life is changed when she picks up a single object, partially hidden in the snow. It is The Gravedigger's Handbook, left behind there by accident, and it is her first act of book thievery. So begins a love affair with books and words, as Liesel, with the help of her accordian-playing foster father, learns to read. Soon she is stealing books from Nazi book-burnings, the mayor's wife's library, wherever there are books to be found.
But these are dangerous times. When Liesel's foster family hides a Jew in their basement, Liesel's world is both opened up, and closed down.
9. Vincent and Theo: The Van Gogh Brothers by Deborah Heiligman
One of the world's best loved painters comes to life in this biographical memoir. Sometimes you just need a book friend like Vincent needed Theo.
The deep and enduring friendship between Vincent and Theo Van Gogh shaped both brothers' lives.
Confidant, champion, sympathizer, friend, Theo supported Vincent as he struggled to find his path in life. They shared everything, swapping stories of lovers and friends, successes and disappointments, dreams and ambitions. Meticulously researched, drawing on the 658 letters Vincent wrote to Theo during his lifetime, Deborah Heiligman weaves a tale of two lives intertwined and the love of the Van Gogh brothers.
10. The 57 Bus: A True Story of Two Teenagers and the Crime That Changed Their Lives by Dashka Slater
This nonfiction book explores both Sasha's and Richard's lives in Oakland. As Sasha rediscovers themselves as agender, Richard tries to step away from the neighborhood where more black teen boys end up in the back of a police car than going to university. This standalone will make you look at the 2013 incident in a new light.
One teenager in a skirt.
One teenager with a lighter.
One moment that changes both of their lives forever.
If it weren't for the 57 bus, Sasha and Richard never would have met. Both were high school students from Oakland, California, one of the most diverse cities in the country, but they inhabited different worlds. Sasha, a white teen, lived in the middle-class foothills and attended a small private school. Richard, a black teen, lived in the crime-plagued flatlands and attended a large public one. Each day, their paths overlapped for a mere eight minutes. But one afternoon on the bus ride home from school, a single reckless act left Sasha severely burned, and Richard charged with two hate crimes and facing life imprisonment. The case garnered international attention, thrusting both teenagers into the spotlight.
11. Internment by Samira Ahmed
This story will make you want to rise and stand up for what's right, especially in today's world.
Rebellions are built on hope.
Set in a horrifying near-future United States, seventeen-year-old Layla Amin and her parents are forced into an internment camp for Muslim American citizens.
With the help of newly made friends also trapped within the internment camp, her boyfriend on the outside, and an unexpected alliance, Layla begins a journey to fight for freedom, leading a revolution against the internment camp's Director and his guards.
12. How Dare the Sun Rise: Memoirs of a War Child by Sandra Uwiringiyimana, Abigail Pesta
This brave story of a young woman from the Democratic Republic of the Congo will make you think on a global scale of how important it is for people to accept immigrants with open arms in the hope of a better world.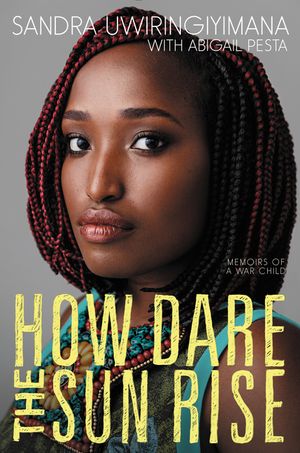 Sandra was just ten years old when she found herself with a gun pointed at her head. She had watched as rebels gunned down her mother and six-year-old sister in a refugee camp. Remarkably, the rebel didn't pull the trigger, and Sandra escaped.
Thus began a new life for her and her surviving family members. With no home and no money, they struggled to stay alive. Eventually, through a United Nations refugee program, they moved to America, only to face yet another ethnic disconnect. Sandra may have crossed an ocean, but there was now a much wider divide she had to overcome. And it started with middle school in New York.
In this memoir, Sandra tells the story of her survival, of finding her place in a new country, of her hope for the future, and how she found a way to give voice to her people.
13. #NotYourPrincess: Voices of Native American Women edited by Lisa Charleyboy, Mary Beth Leatherdale
Native Americans are often forgotten about or shunned with modern day politics and their history is barely discussed in high school classrooms. This anthology of stories celebrates the Native American women and their contribution to society.
Whether looking back to a troubled past or welcoming a hopeful future, the powerful voices of Indigenous women across North America resound in this book.
In the same style as the best-selling Dreaming in Indian, #NotYourPrincess presents an eclectic collection of poems, essays, interviews, and art that combine to express the experience of being a Native woman. Stories of abuse, humiliation, and stereotyping are countered by the voices of passionate women making themselves heard and demanding change.
Sometimes angry, often reflective, but always strong, the women in this book will give teen readers insight into the lives of women who, for so long, have been virtually invisible.
14. The Hunger Games by Suzanne Collins
Peep that quote at the top again because it is our motto.
Could you survive on your own, in the wild, with everyone out to make sure you don't live to see the morning?
In the ruins of a place once known as North America lies the nation of Panem, a shining Capitol surrounded by twelve outlying districts. The Capitol is harsh and cruel and keeps the districts in line by forcing them all to send one boy and one girl between the ages of twelve and eighteen to participate in the annual Hunger Games, a fight to the death on live TV.
Sixteen-year-old Katniss Everdeen, who lives alone with her mother and younger sister, regards it as a death sentence when she is forced to represent her district in the Games. But Katniss has been close to dead before – and survival, for her, is second nature. Without really meaning to, she becomes a contender. But if she is to win, she will have to start making choices that weigh survival against humanity and life against love.
15. The Complete Persepolis by Marjane Satrapi
This graphic novel is a classic that focuses on the Islamic Revolution in Tehran during the late 1970s. Satrapi writes and explains how she takes pride in being Iranian and yet struggled with the idea due to the political and social expectations of the new state. This is a dynamic graphic novel with so many important layers.
Persepolis is the story of Satrapi's unforgettable childhood and coming of age within a large and loving family in Tehran during the Islamic Revolution; of the contradictions between private life and public life in a country plagued by political upheaval; of her high school years in Vienna facing the trials of adolescence far from her family; of her homecoming–both sweet and terrible; and, finally, of her self-imposed exile from her beloved homeland.
It is the chronicle of a girlhood and adolescence at once outrageous and familiar, a young life entwined with the history of her country yet filled with the universal trials and joys of growing up.
---
What are your favorite books that give you hope? Tell us in the comments!