It's (Probably) Dark Outside, But These Books Will Bring You Light
The end of Daylight Savings Time is rough for any book nerd. It's hard to be as awake as we like leaving school or work when it's already dark out—and those are precious reading hours!!
No more sitting by the window, enjoying the late sunset as the sky drips gold across our pages. And no mo—actually, you know what? We're going to stop there. Because it's dark enough outside right now, so we figure we'll keep it nice and light in here. We promise these books will brighten your days and cheer you up on even the longest night!
Books to Bring You Light
FOR WHEN IT'S ALREADY DARK OUTSIDE
1. This Is Kind of an Epic Love Story by Kacen Callender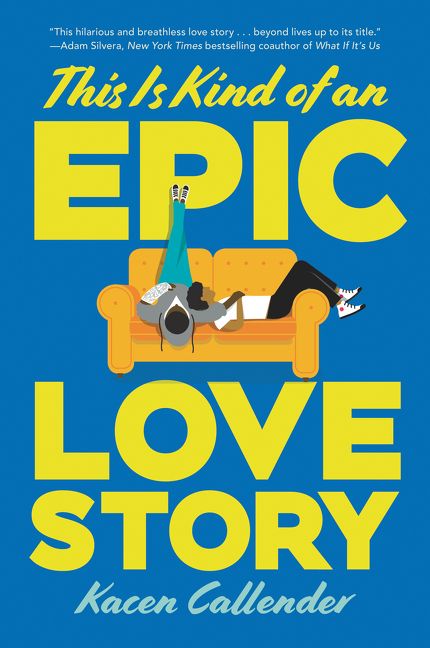 Nathan Bird doesn't believe in happy endings. Although he's the ultimate film buff and an aspiring screenwriter, Nate's seen the demise of too many relationships to believe that happy endings exist in real life.
Playing it safe to avoid a broken heart has been his MO ever since his father died and left his mom to unravel—but this strategy is not without fault. His best-friend-turned-girlfriend-turned-best-friend-again, Florence, is set on making sure Nate finds someone else. And in a twist that is rom-com-worthy, someone does come along: Oliver James Hernández, his childhood best friend.
After a painful mix-up when they were little, Nate finally has the chance to tell Ollie the truth about his feelings. But can Nate find the courage to pursue his own happily ever after?
2. Serious Moonlight by Jenn Bennett
Mystery-book aficionado Birdie Lindberg has an overactive imagination. Raised in isolation and homeschooled by strict grandparents, she's cultivated a whimsical fantasy life in which she plays the heroic detective and every stranger is a suspect. But her solitary world expands when she takes a job the summer before college, working the graveyard shift at a historic Seattle hotel.
In her new job, Birdie hopes to blossom from introverted dreamer to brave pioneer, and gregarious Daniel Aoki volunteers to be her guide. The hotel's charismatic young van driver shares the same nocturnal shift and patronizes the waterfront Moonlight Diner where she waits for the early morning ferry after work. Daniel also shares her appetite for intrigue, and he's stumbled upon a real-life mystery: a famous reclusive writer—never before seen in public—might be secretly meeting someone at the hotel.
To uncover the writer's puzzling identity, Birdie must come out of her shell…discovering that the most confounding mystery of all may be her growing feelings for the elusive riddle that is Daniel.
3. A Constellation of Roses by Miranda Asebedo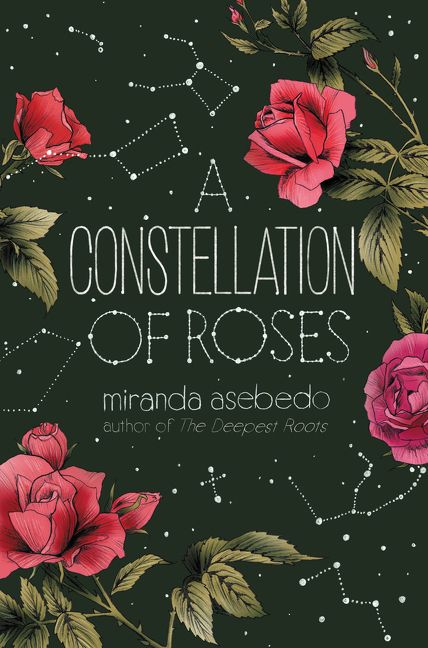 Ever since her troubled mother abandoned her, Trix McCabe has preferred to stay on the move.
But when she lands with her long-lost relatives, she finds out that the McCabe women have talents like her own that defy explanation: pies that cure all ills, palm-reading that never misses the mark, knowledge of secrets that have never been told.
Before long, Trix feels like she might finally have found somewhere she belongs. But when her past comes back to haunt her, she'll have to decide whether to take a chance on this new life… or keep running from the one she's always known.
4. There's Something About Sweetie by Sandhya Menon
Ashish Patel didn't know love could be so…sucky. After he's dumped by his ex-girlfriend, his mojo goes AWOL. Even worse, his parents are annoyingly, smugly confident they could find him a better match. So, in a moment of weakness, Ash challenges them to set him up.
The Patels insist that Ashish date an Indian-American girl—under contract. Per subclause 1(a), he'll be taking his date on "fun" excursions like visiting the Hindu temple and his eccentric Gita Auntie. Kill him now. How is this ever going to work?
Sweetie Nair is many things: a formidable track athlete who can outrun most people in California, a loyal friend, a shower-singing champion. Oh, and she's also fat. To Sweetie's traditional parents, this last detail is the kiss of death.
Sweetie loves her parents, but she's so tired of being told she's lacking because she's fat. She decides it's time to kick off the Sassy Sweetie Project, where she'll show the world (and herself) what she's really made of.
Ashish and Sweetie both have something to prove. But with each date they realize there's an unexpected magic growing between them. Can they find their true selves without losing each other?
5. I Believe in a Thing Called Love by Maurene Goo
Desi Lee believes anything is possible if you have a plan. That's how she became student body president. Varsity soccer star. And it's how she'll get into Stanford. But—she's never had a boyfriend. In fact, she's a disaster in romance, a clumsy, stammering humiliation magnet whose botched attempts at flirting have become legendary with her friends.
So when the hottest human specimen to have ever lived walks into her life one day, Desi decides to tackle her flirting failures with the same zest she's applied to everything else in her life. She finds guidance in the Korean dramas her father has been obsessively watching for years—where the hapless heroine always seems to end up in the arms of her true love by episode ten. It's a simple formula, and Desi is a quick study.
Armed with her "K Drama Steps to True Love," Desi goes after the moody, elusive artist Luca Drakos—and boat rescues, love triangles, and staged car crashes ensue. But when the fun and games turn to true feels, Desi finds out that real love is about way more than just drama.
6. Darius the Great Is Not Okay by Adib Khorram
Darius Kellner speaks better Klingon than Farsi, and he knows more about Hobbit social cues than Persian ones. He's about to take his first-ever trip to Iran, and it's pretty overwhelming–especially when he's also dealing with clinical depression, a disapproving dad, and a chronically anemic social life. In Iran, he gets to know his ailing but still formidable grandfather, his loving grandmother, and the rest of his mom's family for the first time. And he meets Sohrab, the boy next door who changes everything.
Sohrab makes sure people speak English so Darius can understand what's going on. He gets Darius an Iranian National Football Team jersey that makes him feel like a True Persian for the first time. And he understands that sometimes, best friends don't have to talk. Darius has never had a true friend before, but now he's spending his days with Sohrab playing soccer, eating rosewater ice cream, and sitting together for hours in their special place, a rooftop overlooking the Yazdi skyline.
Sohrab calls him Darioush—the original Persian version of his name—and Darius has never felt more like himself than he does now that he's Darioush to Sohrab. When it's time to go home to America, he'll have to find a way to be Darioush on his own.
7. I Wish You All the Best by Mason Deaver
When Ben De Backer comes out to their parents as nonbinary, they're thrown out of their house and forced to move in with their estranged older sister, Hannah, and her husband, Thomas, whom Ben has never even met. Struggling with an anxiety disorder compounded by their parents' rejection, they come out only to Hannah, Thomas, and their therapist and try to keep a low profile in a new school.
But Ben's attempts to survive the last half of senior year unnoticed are thwarted when Nathan Allan, a funny and charismatic student, decides to take Ben under his wing. As Ben and Nathan's friendship grows, their feelings for each other begin to change, and what started as a disastrous turn of events looks like it might just be a chance to start a happier new life.
8. The Selection by Kiera Cass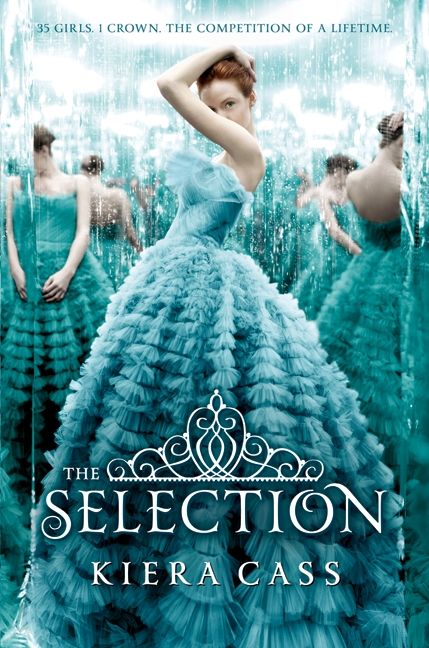 Fall in love—from the very beginning. Discover the first book in the captivating, #1 New York Times bestselling Selection series.
For thirty-five girls, the Selection is the chance of a lifetime. The opportunity to escape a rigid caste system, live in a palace, and compete for the heart of gorgeous Prince Maxon. But for America Singer, being Selected is a nightmare. It means turning her back on her secret love with Aspen, who is a caste below her, and competing for a crown she doesn't want.
Then America meets Prince Maxon—and realizes that the life she's always dreamed of may not compare to a future she never imagined.
9. The Music of What Happens by Bill Konigsberg
Max: Chill. Sports. Video games. Gay and not a big deal, not to him, not to his mom, not to his buddies. And a secret: An encounter with an older kid that makes it hard to breathe, one that he doesn't want to think about, ever.
Jordan: The opposite of chill. Poetry. His "wives" and the Chandler Mall. Never been kissed and searching for Mr. Right, who probably won't like him anyway. And a secret: A spiraling out of control mother, and the knowledge that he's the only one who can keep the family from falling apart.
Throw in a rickety, 1980s-era food truck called Coq Au Vinny. Add in prickly pears, cloud eggs, and a murky idea of what's considered locally sourced and organic. Place it all in Mesa, Arizona, in June, where the temp regularly hits 114. And top it off with a touch of undeniable chemistry between utter opposites.
Over the course of one summer, two boys will have to face their biggest fears and decide what they're willing to risk—to get the thing they want the most.
10. Small Town Hearts by Lillie Vale
Fresh out of high school, Babe Vogel should be thrilled to have the whole summer at her fingertips. She loves living in her lighthouse home in the sleepy Maine beach town of Oar's Rest and being a barista at the Busy Bean, but she's totally freaking out about how her life will change when her two best friends go to college in the fall. And when a reckless kiss causes all three of them to break up, she may lose them a lot sooner. On top of that, her ex-girlfriend is back in town, bringing with her a slew of memories, both good and bad.
And then there's Levi Keller, the cute artist who's spending all his free time at the coffee shop where she works. Levi's from out of town, and even though Babe knows better than to fall for a tourist who will leave when summer ends, she can't stop herself from wanting to know him. Can Babe keep her distance, or will she break the one rule she's always had – to never fall for a summer boy?
11. The Rest of the Story by Sarah Dessen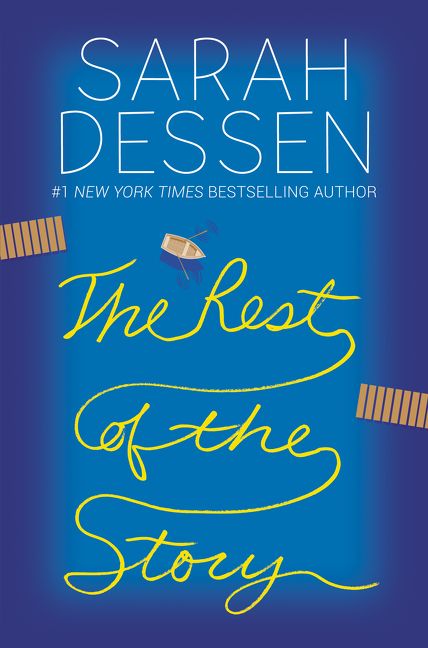 Emma Saylor doesn't remember a lot about her mother, who died when Emma was twelve. But she does remember the stories her mom told her about the big lake that went on forever, with cold, clear water and mossy trees at the edges.
Now it's just Emma and her dad, and life is good, if a little predictable…until Emma is unexpectedly sent to spend the summer with her mother's family that she hasn't seen since she was a little girl.
When Emma arrives at North Lake, she realizes there are actually two very different communities there. Her mother grew up in working class North Lake, while her dad spent summers in the wealthier Lake North resort. The more time Emma spends there, the more it starts to feel like she is also divided into two people. To her father, she is Emma. But to her new family, she is Saylor, the name her mother always called her.
Then there's Roo, the boy who was her very best friend when she was little. Roo holds the key to her family's history, and slowly, he helps her put the pieces together about her past. It's hard not to get caught up in the magic of North Lake—and Saylor finds herself falling under Roo's spell as well.
For Saylor, it's like a whole new world is opening up to her. But when it's time to go back home, which side of her—Emma or Saylor—will win out?
12. Top Ten by Katie Cotugno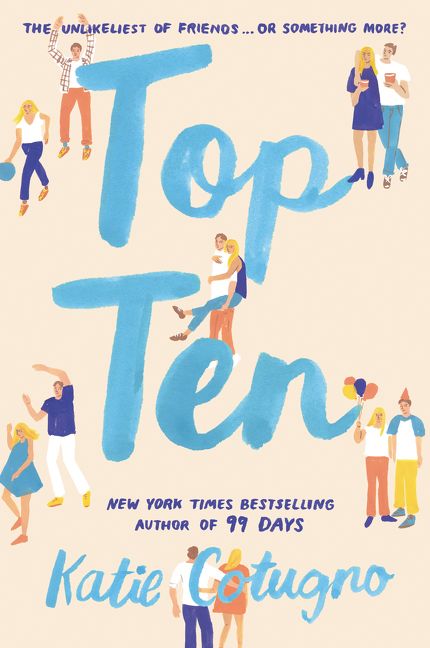 Ryan McCullough and Gabby Hart are the unlikeliest of best friends. Prickly, anxious Gabby would rather do literally anything than go to a party. Ultra-popular Ryan is a hockey star who can get any girl he wants—and frequently does.
But somehow their relationship just works; from dorky Monopoly nights to rowdy house parties to the top ten lists they make about everything under the sun.
Now, on the night of high school graduation, everything is suddenly changing—in their lives, and in their relationship. As they try to figure out what they mean to each other and where to go from here, they make a final top ten list: this time, counting down the top ten moments of their friendship.
13. Frankly In Love by David Yoon
Frank Li has two names. There's Frank Li, his American name. Then there's Sung-Min Li, his Korean name. No one uses his Korean name, not even his parents. Frank barely speaks any Korean. He was born and raised in Southern California.
Even so, his parents still expect him to end up with a nice Korean girl—which is a problem, since Frank is finally dating the girl of his dreams: Brit Means. Brit, who is funny and nerdy just like him. Brit, who makes him laugh like no one else. Brit… who is white.
As Frank falls in love for the very first time, he's forced to confront the fact that while his parents sacrificed everything to raise him in the land of opportunity, their traditional expectations don't leave a lot of room for him to be a regular American teen. Desperate to be with Brit without his parents finding out, Frank turns to family friend Joy Song, who is in a similar bind. Together, they come up with a plan to help each other and keep their parents off their backs. Frank thinks he's found the solution to all his problems, but when life throws him a curveball, he's left wondering whether he ever really knew anything about love—or himself—at all.
14. Dumplin' by Julie Murphy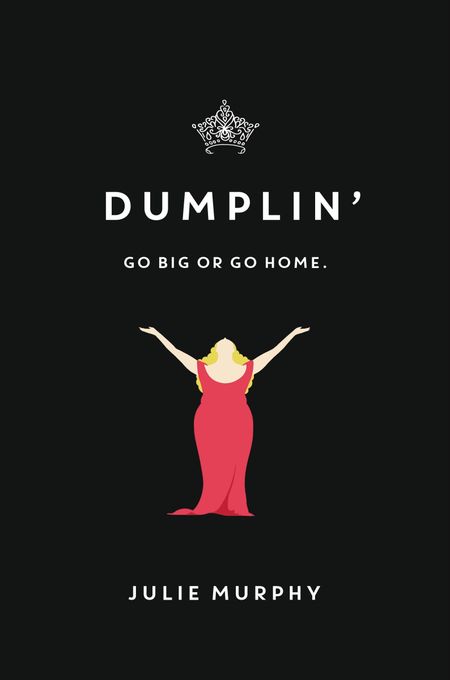 Self-proclaimed fat girl Willowdean Dickson (dubbed "Dumplin'" by her former beauty queen mom) has always been at home in her own skin. Her thoughts on having the ultimate bikini body? Put a bikini on your body.
With her all-American beauty best friend, Ellen, by her side, things have always worked… until Will takes a job at Harpy's, the local fast-food joint. There she meets Private School Bo, a hot former jock. Will isn't surprised to find herself attracted to Bo. But she is surprised when he seems to like her back.
Instead of finding new heights of self-assurance in her relationship with Bo, Will starts to doubt herself. So she sets out to take back her confidence by doing the most horrifying thing she can imagine: entering the Miss Clover City beauty pageant—along with several other unlikely candidates—to show the world that she deserves to be up there as much as any girl does.
Along the way, she'll shock the hell out of Clover City—and maybe herself most of all.
15. Our Year in Love and Parties by Karen Hattrup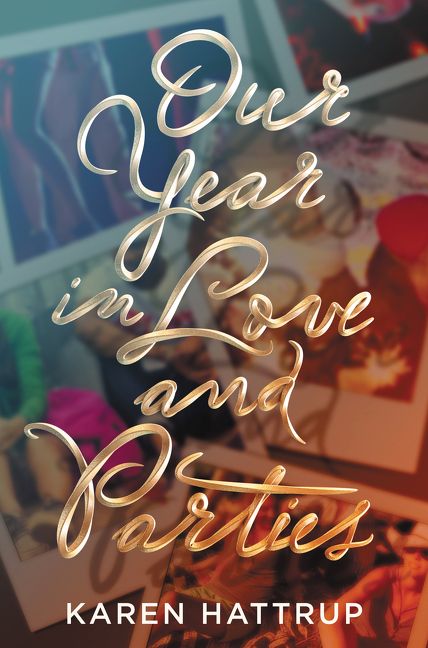 Tucker knows that some relationships take work. With his best friend, Bobby, and his mom, everything is simple, steady. His dad, on the other hand, seems to only show up when he wants to bring Tucker down. Then there's Erika Green, who comes back into his life, stirring up old feelings. A small part of him knows he shouldn't get too attached during senior year. But a bigger part doesn't want her to disappear again.
Erika from before the video loved to shock people. Now, she just wants to hole up in her quiet college life and leave the past where it belongs—in a dumpster fire. But then she reconnects with Tucker Campanelli. Erika can't explain what it is about him. There's just this undeniable connection between them, and she really doesn't want to lose that feeling. Not yet.
16. What If It's Us by Becky Albertalli & Adam Silvera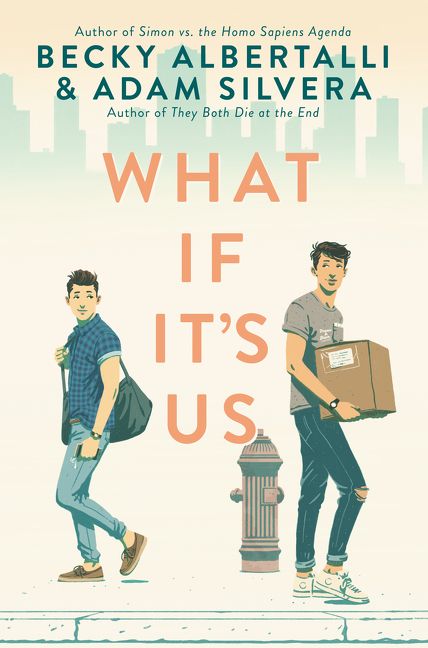 Arthur is only in New York for the summer, but if Broadway has taught him anything, it's that the universe can deliver a showstopping romance when you least expect it.
Ben thinks the universe needs to mind its business. If the universe had his back, he wouldn't be on his way to the post office carrying a box of his ex-boyfriend's things.
But when Arthur and Ben meet-cute at the post office, what exactly does the universe have in store for them… ?
Maybe nothing. After all, they get separated.
Maybe everything. After all, they get reunited.
But what if they can't nail a first date even after three do-overs? What if Arthur tries too hard to make it work and Ben doesn't try hard enough? What if life really isn't like a Broadway play?
But what if it is?
What if it's us?
17. By Your Side by Kasie West
When Autumn Collins finds herself accidentally locked in the library for an entire weekend, she doesn't think things could get any worse. But that's before she realizes that Dax Miller is locked in with her.
Autumn doesn't know much about Dax except that he's trouble. Between the rumors about the fight he was in (and that brief stint in juvie that followed it) and his reputation as a loner, he's not exactly the ideal person to be stuck with. Still, she just keeps reminding herself that it is only a matter of time before Jeff, her almost-boyfriend, realizes he left her in the library and comes to rescue her.
Only he doesn't come. No one does. Instead, it becomes clear that Autumn is going to have to spend the next couple of days living off vending-machine food and making conversation with a boy who clearly wants nothing to do with her. Except there is more to Dax than meets the eye.
As he and Autumn at first grudgingly, and then not so grudgingly, open up to each other, Autumn is struck by their surprising connection. But can their feelings for each other survive once the weekend is over and Autumn's old life, and old love interest, threaten to pull her from Dax's side?
18. With the Fire on High by Elizabeth Acevedo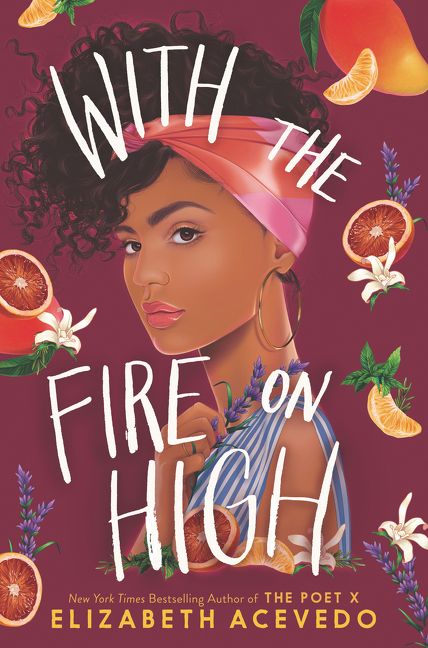 Ever since she got pregnant freshman year, Emoni Santiago's life has been about making the tough decisions—doing what has to be done for her daughter and her abuela. The one place she can let all that go is in the kitchen, where she adds a little something magical to everything she cooks, turning her food into straight-up goodness.
Even though she dreams of working as a chef after she graduates, Emoni knows that it's not worth her time to pursue the impossible. Yet despite the rules she thinks she has to play by, once Emoni starts cooking, her only choice is to let her talent break free.
19. Dangerous Alliance by Jennieke Cohen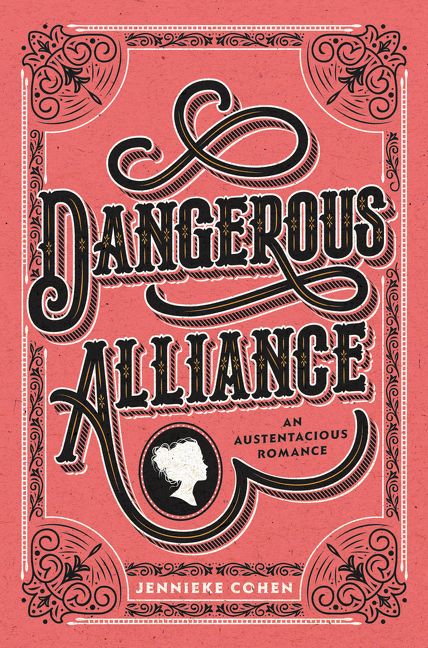 Lady Victoria Aston has everything she could want: an older sister happily wed, the future of her family estate secure, and ample opportunity to while her time away in the fields around her home.
But now Vicky must marry—or find herself and her family destitute. Armed only with the wisdom she has gained from her beloved novels by Jane Austen, she enters society's treacherous season.
Sadly, Miss Austen has little to say about Vicky's exact circumstances: whether the roguish Mr. Carmichael is indeed a scoundrel, if her former best friend, Tom Sherborne, is out for her dowry or for her heart, or even how to fend off the attentions of the foppish Mr. Silby, he of the unfortunate fashion sensibility.
Most unfortunately of all, Vicky's books are silent on the topic of the mysterious accidents cropping up around her… ones that could prevent her from surviving until her wedding day.
20. Yes No Maybe So by Becky Albertalli & Aisha Saeed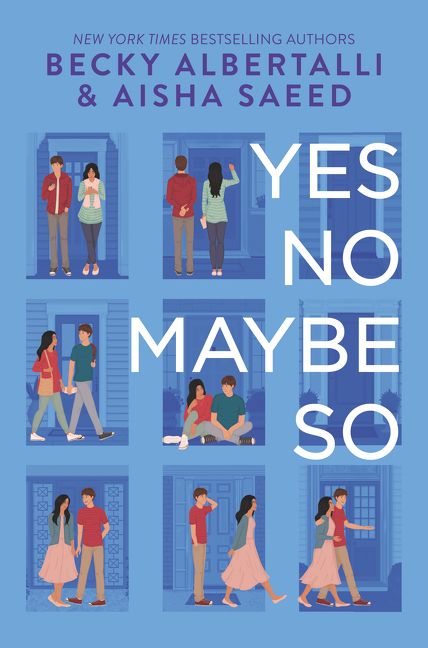 YES. Jamie Goldberg is cool with volunteering for his local state senate candidate—as long as he's behind the scenes. When it comes to speaking to strangers (or, let's face it, speaking at all to almost anyone) Jamie's a choke artist. There's no way he'd ever knock on doors to ask people for their votes…until he meets Maya.
NO. Maya Rehman's having the worst Ramadan ever. Her best friend is too busy to hang out, her summer trip is canceled, and now her parents are separating. Why her mother thinks the solution to her problems is political canvassing—with some awkward dude she hardly knows—is beyond her.
MAYBE SO. Going door to door isn't exactly glamorous, but maybe it's not the worst thing in the world. After all, the polls are getting closer—and so are Maya and Jamie. Mastering local activism is one thing. Navigating the cross-cultural crush of the century is another thing entirely.
21. Loveboat, Taipei by Abigail Hing Wen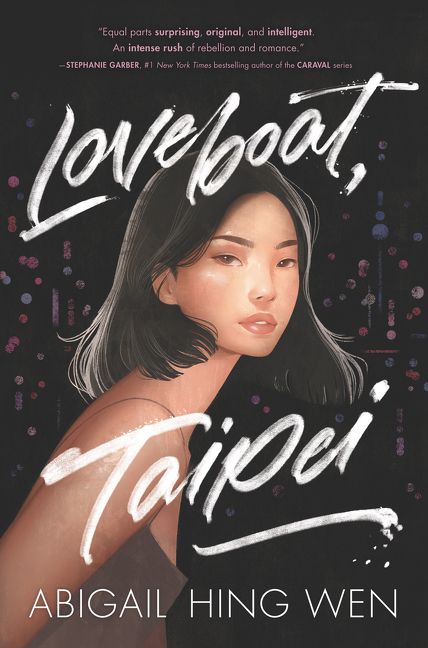 "Our cousins have done this program," Sophie whispers. "Best kept secret. Zero supervision."
And just like that, Ever Wong's summer takes an unexpected turn. Gone is Chien Tan, the strict educational program in Taiwan that Ever was expecting. In its place, she finds Loveboat: a summer-long free-for-all where hookups abound, adults turn a blind eye, snake-blood sake flows abundantly, and the nightlife runs nonstop.
But not every student is quite what they seem:
Ever is working toward becoming a doctor but nurses a secret passion for dance. Rick Woo is the Yale-bound child prodigy bane of Ever's existence whose perfection hides a secret. Boy-crazy, fashion-obsessed Sophie Ha turns out to have more to her than meets the eye. And under sexy Xavier Yeh's shell is buried a shameful truth he'll never admit.
When these students' lives collide, it's guaranteed to be a summer Ever will never forget.
---
What do you read when you need a little light? Let us know in the comments!